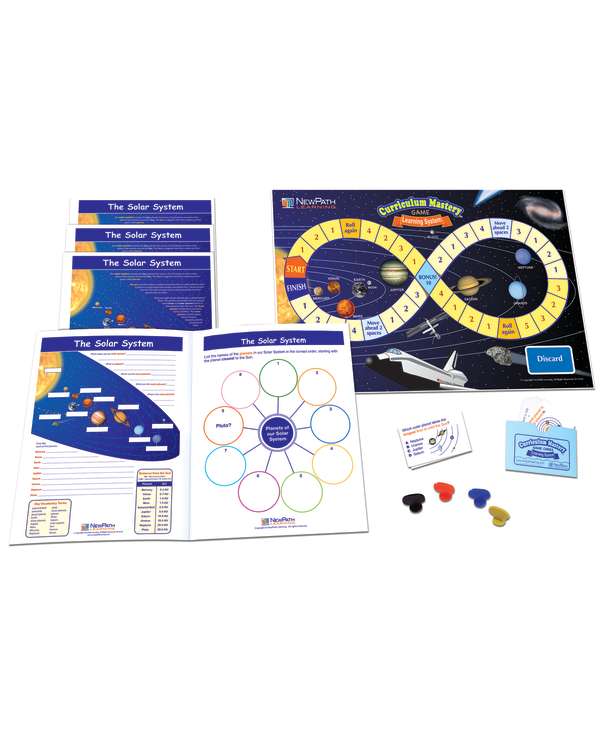  
The Solar System Learning Center, Grades 3-5
Product Number: NP-24-6939
Engaging, Ready-to-Use Learning Centers for Review of Standards-Based Science Skills!This complete, easy-to-use learning cent...
Description
Engaging, Ready-to-Use Learning Centers for Review of Standards-Based Science Skills!
This complete, easy-to-use learning center is perfect for learning essential grade appropriate science skills. Designed for either teacher directed instruction or independent learning working in groups of 2-4 students, the learning center covers a grade appropriate curriculum-aligned science topic or skill making it perfect for differentiated instruction.This ready-to-go learning center, allows students of varying abilities to work independently or cooperatively — students can use them in the classroom, after-school programs, or even at home for test preparation or practice and review! Enough materials are provided for up to 4 students and are a snap to set up and store in the pouch provided for years of use!

To use, students first review and complete the Visual Learning Guide and then form groups of up to 4 students to assess and/or reinforce their understanding of the topic by playing the Curriculum Mastery Game®.
The Living & Nonliving Things Learning Center provides materials for 4 students and includes:.


1 Curriculum Mastery Game featuring:
• 1 Set of 30 illustrated self-checking question cards
• 1 Laminated double-sided game board & game pieces for up to 4 players

4 Visual Learning Guides focused on the same topic.

Each "Write-On/Wipe-Off" Visual learning guide is 11" x 17", laminated and consists of four-pages which include self-directed readings, easy-to-follow illustrated explanations, guiding questions, graphic organizers and assessment review questions.

Packed in a zippered storage pouch.
Product Details
Data sheet
Manufacturer

NewPath Learning

Grade(s)

3

Grade(s)

5

Grade(s)

4
Reviews
No customer reviews for the moment.